Rachel Kwon

Marketing Director

in Portland, OR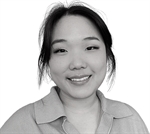 Rachel Kwon is a marketing director that is responsible for overall branding and image. She oversees the implementation and development of marketing strategies.
Her experience can be traced back to her pre-professional days as a photographer who's accumulated over 20k followers on Instagram to making thousands of sales on her personal e-commerce business just for fun.
Rachel promotes offerings and delivers solutions to make a difference.
In her free time, she enjoys spending quality time with her husband and her 3 wonderful dogs.